Dynamics 365 Implementation Plan – Business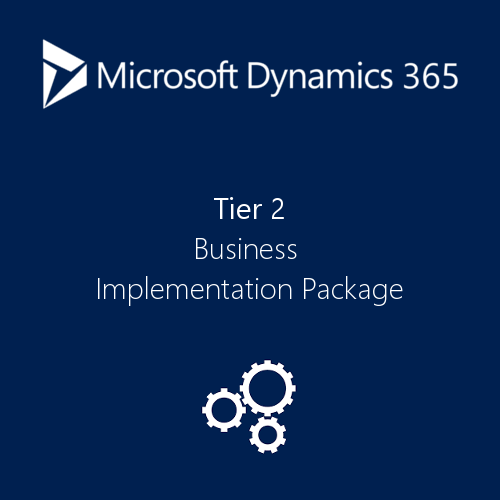 Business Implementation
for Microsoft Dynamics 365
$12,500
Tier 2 – Business Implementation Package
Our Tier 2 Business – Dynamics 365 Implementation Plan includes the Tier 1 Implementation Package and requires implementation services of the Financial Modules. We will assist customers to create a robust implementation of Microsoft Dynamics 365.
This plan includes 40 hours of assistance and consulting efforts.
Fill out the form below to start ordering a Dynamics 365 Implementation Plan
Some of the high level tasks that we will do for you:
High level B.P.R. on the Financial Modules with recommendations
Create up to 6 users to connect to Dynamics 365 and train client how to setup
Create Production Company database and basic configuration of Dynamics 365 along with GL Account Structure
Provide Import templates for Vendor, Customer, and Chart of Accounts Master Records
Import Master Vendors and Customers from Customer provided populated templates
Modify User Security
Setup System and Company settings
Format Check and Invoice (one of each)
Create one Balance Sheet and Income Statement
Train the trainer on the Financial Modules (GL, AP, AR and BR)
Go-Live review
Assumptions:
All custom functionality and reports are not included and quoted separately
There is no test company, so all configurations will be done in Live
Learn more about Microsoft Dynamics 365
Visit our Parent Company Website to access tons of product resources.
—— From the TMC website ——
Microsoft Dynamics 365 is unique from all other ERP systems because it empowers users to utilize the Microsoft stack and work inside of Microsoft Outlook while handling financials, sales, purchasing, CRM and other related tasks. Microsoft Dynamics 365 apps will use a common data model that is shared with Office 365. Microsoft's goal is to simplify data management across apps and business processes. This will redefine business processes and eliminate historical boundaries between CRM and ERP.
Microsoft Dynamics 365 is the next generation of business apps in the cloud. This is specifically unique to the ERP marketplace and these apps bring together the full power of the Microsoft stack across productivity, advanced analytics, Power BI and IoT, with the strength of Azure and a new application platform and common data model. The Microsoft Dynamics 365 name reflects the significance of the offering and the coming together of the two worlds structured business processes and unstructured personal productivity so companies can achieve more.